Coveney to attend Council of Europe panel on democratic security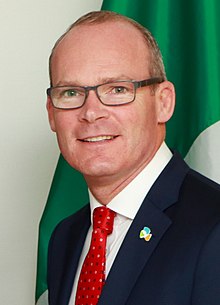 Foreign Minister Simon Coveney is due to visit Strasbourg next week to take part in a Council of Europe panel on democratic security in Europe.
Ireland currently holds the rotating presidency of the Council of Europe's Committee of Ministers.
Addresses by the President of the Hellenic Republic, Katerina Sakellaropoulou, and by King Willem-Alexander of the Netherlands are among highlights of the summer session of the Parliamentary Assembly of the Council of Europe (PACE), which takes place from 20-24 June.
There will also be a high-level panel and interactive debate on the theme of "Upholding democratic security in Europe" with the participation of Mr Coveney as well as President of the Committee of Ministers, Pekka Haavisto, Minister for Foreign Affairs of Finland; Marija Pejčinović Burić, Secretary General of the Council of Europe and Sviatlana Tsikhanouskaya, leader of the opposition in Belarus.
Other topics to be debated include the humanitarian consequences of Russia's war on Ukraine, with a special focus on internal and external migration, and ensuring accountability for the downing of flight MH17. There will also be a joint debate on reported cases of political prisoners in the Russian Federation, and the need to restore human rights and the rule of law in the North Caucasus.
The parliamentarians will also discuss the control of online communication, how to prevent and combat antisemitism in Europe, and fighting vaccine-preventable diseases through quality services and anti-vaccine myth-busting. There is a report on the role of political parties in fostering diversity and inclusion – which proposes they sign a new charter for a non-racist society – and one on justice and security for women in peace reconciliation.
Finally, the Assembly debates Malta's honouring of its Council of Europe membership obligations, and reviews its partnership for democracy with the Parliament of the Kyrgyz Republic.