Challenge brought against proposed new employment regulation order for security workers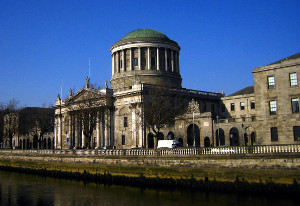 Three security companies have brought a High Court challenge aimed at setting aside a ministerial order that would see many working in the industry receive increased pay.
The action is over the State's intention to bring in a new employment regulation order for the security industry, which was approved by the Minister for Enterprise, Trade and Employment in April and due to come into force from 1 September 2021.
The action has been brought by Dublin companies Top Security Ltd and Morbury Ltd, and Co Louth company Las Security Ltd, against the Minister, the Labour Court, the Security Industry Labour Committee, Ireland and the Attorney General.
The companies, represented by Martin Hayden SC appearing with Eoin O'Shea BL and instructed by solicitor Tom Casey, claim that the process which resulted in the order being formulated was flawed.
The three claim the process utilised to arrive at such order tends supports the interests of big employers and has produced a anti-competitive outcome, and tends to reduce employment in the industry.
They claim that the market should set the rates for security operatives which would permit different rates to be set for differently-qualified operatives working in diverse employment situations.
Such ministerial orders deal with issues including minimum hourly rates for security operatives, deals with overtime calculations, sick pay scheme, and the minimum number of employment hours to be offered.
Permission to bring the challenge was granted, on an ex-parte basis, by Mr Justice Anthony Barr on Monday. The judge also granted a stay on the order, pending the outcome of the hearing of the action.
The judge said that the respondents could seek to have the stay lifted, in an application that is on notice to the applicants. The matter was made returnable to a date in November.