Benches being measured for 'socially-distant courts'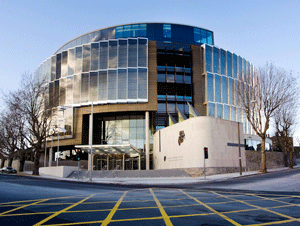 Courtroom benches are being measured to determine whether the three-judge Court of Appeal can physically sit again while maintaining social distancing.
The criminal division of the three-judge court usually sits in courts 16 and 22 of the Criminal Courts of Justice (CCJ) building on Dublin's Parkgate Street.
It is understood that in recent days, a measuring tape has been taken to courtroom furniture and the benches in courts 16 and 22 measured 3.6 metres.
In order for the three-judge court to physically sit at the recommended social distance, one or more judge may have to sit on the edge of the bench or to the side.
The biggest bench in a courtroom in the CCJ is understood to be in court 6, which seats the presiding judge of the Central Criminal Court. The bench is understood to have measured 4.6 metres, but there is usually only one judge sitting in the Central Criminal Court.
Another factor that is under active consideration by the Court of Appeal is the distance between the bench and court registrars, who sit centrally in front of the judges, at a slightly lower height.
The distance between the registrar and the solicitors' benches are also being measured, as are the distances between the solicitors' benches and the barristers' benches, but these seating arrangements are much more flexible.
Mr Justice George Birmingham, president of the Court of Appeal, told a conference call of up to 50 lawyers and judges a fortnight ago that the court was anxious to continue serving the public during the COVID-19 crisis, at a time when social distancing was required and travel had been curtailed.
Mr Justice Birmingham said the court had been looking at various ways of dealing with cases "outside of the traditional courtroom setting" in light of the COVID-19 crisis.
The court has dealt with more than a dozen cases "remotely" in the past two weeks, which sees the parties participate in proceedings online using video conferencing technology. Judges, lawyers, prisoners, plaintiffs, defendants, victims and gardaí can call in to the "virtual courtroom" from their offices or homes.
The only people physically present in the court are the registrars and, on occasion, an IT technician. Also present are bona fide representatives of the media because, as Mr Justice Birmingham puts it, "this is justice being administered in public".
During the Easter vacation a fortnight ago, a "mock appeal" was conducted remotely by barristers Tony McGillicuddy and Dominic McGinn SC.
Proceedings in the "virtual courtroom" are conducted using the Pepix app, which allows for six people to be visible on screen at any time. It allows barristers to gauge the impact of their arguments by looking at the judges they're speaking to, and vice versa.
Most courts are fitted with television screens and hardware for the use of video links to prisons or to show CCTV footage.
"We will have to move slowly and learn as we go," Mr Justice Birmingham told the conference call a fortnight ago. "It's going to require patience on all our parts as judges and we ask you to be patient with us as we all try to move things forward together."