Barrister complains that judge is 'rubbishing' their arguments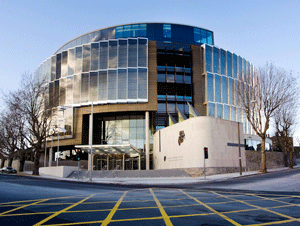 A barrister has complained that the presiding judge in the trial of four men accused of abducting businessman Kevin Lunney is "rubbishing" an important part of the defence case and was "dismissive and contemptuous" in his tone.
Michael O'Higgins SC was cross-examining fingerprint expert Detective Garda Ernie Frazer about blood marks inside a Renault Kangoo van when Mr Justice Tony Hunt interrupted to ask: "Where is this blood?"
Mr O'Higgins asked the witness to leave and then told the judge that he wanted to "legally complain of the observation made by the court". He said the trial has to be conducted on evidence and that he, having read the book of evidence, is aware of things the judge is not.
Mr Justice Hunt told Mr O'Higgins: "There is no need to shout. Keep the anger level down."
Mr O'Higgins said "I'm not shouting" and added: "This is an important part of the defence case and you are rubbishing it. Can I suggest that you just sit back and listen to all the evidence rather than make comments in the middle of it to the effect that there is nothing in this?"
Mr Justice Hunt said, "I just want to know where the mark is," to which Mr O'Higgins replied: "Your tone in saying it was, in my submission, completely dismissive and contemptuous of it."
When Mr Justice Hunt said anyone could listen back to the proceedings to hear his tone, Mr O'Higgins replied: "What won't be on that is the expression on your face."
Mr O'Higgins described the judge's question as an "unfair comment on the evidence". The judge finished by saying: "I would like to know what the evidence is, all right, so get the witness back and move on."
Three people – a 40-year-old man known as YZ, 40-year-old Alan O'Brien and 67-year-old Luke O'Reilly – have all pleaded not guilty to false imprisonment and intentionally causing serious harm to Mr Lunney on 17 September 2019.
The trial continues in the Special Criminal Court in front of Mr Justice Hunt, presiding, with Judge Gerard Griffin and Judge David McHugh.