Abhaile scheme for mortgage holders is 'delivering results'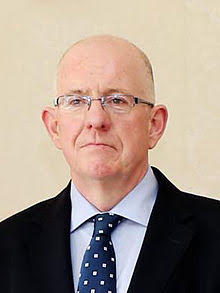 The Government's Abhaile scheme to provide free financial and legal advice to mortgage holders is "delivering results", according to new reports.
Nearly 11,700 individual borrowers (over 10,000 households) in mortgage arrears have received independent expert Abhaile financial advice and negotiation support, aimed at putting a solution in place.
Over 7,100 borrowers facing repossession proceedings have received advice and support under Abhaile from a court mentor, and almost 4,800 have received legal assistance at court from an Abhaile duty solicitor.
Justice Minister Charlie Flanagan and Social Protection Minister Regina Doherty, whose departments jointly co-ordinate and fund the scheme, have published reports reviewing the take-up and outcomes of Abhaile from July 2016 to June 2018.
Mr Flanagan said: "Abhaile is now delivering real, successful solutions for borrowers struggling to pay their mortgage arrears. The number of home mortgage accounts in arrears has now fallen to less than half its late 2013 peak. I am particularly pleased to see that Abhaile is delivering results even for borrowers in the more challenging levels of arrears, who are those most at risk.
"Abhaile is undoubtedly making an important contribution to the drop in arrears for this worst-affected category and is helping those who fell into arrears due to loss of earnings, illness or family separation."
The Money Advice and Budgeting Service (MABS), the Insolvency Service of Ireland (ISI), the Legal Aid Board (LAB) and the Citizens Information Board (CIB) are working together to provide the Abhaile service.
The case studies in the reports indicate that the vast majority of Abhaile solutions enable people to remain in their homes.
Furthermore, in 64 per cent of court review cases legally aided by Abhaile during Year Two, the court decided to impose the personal insolvency arrangement proposed by the borrower, which had been rejected by the creditors.