Coveney warns he could block 'anti-Israel' bill
---

---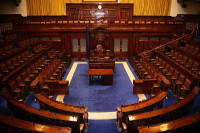 Independent Alliance members in the Dáil have been called on to support legislation banning the import of goods from the Israeli occupied territories.
The Government's junior coalition partners were under pressure to support the law, which would make it an offence for a person to sell or import goods originating in the settlements.
The Israeli embassy in Dublin has called the law the "most extreme anti-Israel legislation" ever proposed by a western country.
It is thought the proposals will pass as a result of co-operation between Fianna Fáil and Sinn Féin. However, Tánaiste Simon Coveney suggested he could block the plans.
He said the bill was not legally sound and that he would need to make funding available for it to pass, giving him the opportunity to block its progress through the Dáil.
He added it could put Ireland in breach of EU law and that it would not seriously affect Israeli settlements. Finally, he suggested the Israeli embassy may even close if the bill were passed.
Paul Murphy, the Solidarity TD, called on the Independent Alliance to back the measures.
"If the words of solidarity that the Independent Alliance previously uttered mean anything, they will be tripping over themselves to run to the chamber and vote for the bill," he said.
"If passed, far from being a principled voice in the wilderness, it would represent a very important signal internationally as part of a global movement of solidarity against the oppression of the Palestinian people."