Legal Officer Maternity Cover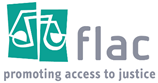 FLAC is seeking a dynamic individual to play a key role in operating PILA's Pro Bono Referral Scheme and raising awareness on public interest law issues.
Pro Bono Referral Scheme:
Work closely with new and existing NGOs, community groups and independent law centres to develop membership and identify unmet legal need.
Build and maintain collaborative relationships with the legal profession to support provision of pro bono legal assistance.
Deliver high quality pro bono referrals from start to finish, including scoping and structuring pro bono requests, placing referrals with the right legal expertise and providing on-going support.
Identify and pursue strategic litigation opportunities that advance law in the public interest.
Support the development and implementation of Impact Projects with partner law firms.
Identify and facilitate new and existing Law Reform Working Groups.
Plan and organise Legal Education Sessions for partner NGOs.
Barriers to Public Interest Litigation:
Actively participate in raising awareness and seeking address of barriers to public interest litigation.
Conduct research and assist in the formulation of policy on barriers to public interest litigation.
Develop materials and resources on barriers to public interest litigation.
Events and communications
Design and host seminars, roundtables and events targeting key themes for NGOs, lawyers and law students.
Assist with the preparation and editing of the fortnightly PILA Bulletin.
Person Specification
The successful candidate will have:
A degree in law or a related field.
Experience as a solicitor or barrister is desirable.
Relevant work experience, preferably in a legal or NGO environment.
A self-starter with a strong work ethic and a passion for social justice.
Proven ability to form and maintain diverse strategic relationships.
Excellent people skills, including organising and networking.
Excellent communication and interpersonal skills, including research and writing.
Strong knowledge of access to justice issues, public interest law and human rights.
Salary is commensurate with experience.
Closing dates for receipt of applications is 6th June 2023. A CV and covering letter should be sent to recruitment@flac.ie. FLAC is an equal opportunities employer.