Unionist files judicial review over operation of Northern Ireland Protocol
---

---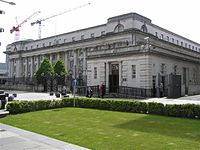 A unionist who believes the Northern Ireland Protocol has "weakened the Union" has launched a judicial review seeking a declaration that the operation of the protocol is unconstitutional and unlawful.
Belfast man Clifford Peeples instructed a solicitor last week and issued judicial review proceedings in the High Court on Monday.
His legal argument relies on a provision of the Good Friday Agreement which prohibits "any change in the status of Northern Ireland save with the consent of a majority of its people".
In a statement, Mr Peeples said: "I know the strength of my case and I have instructed my lawyers to proceed robustly and with all vigour.
"I believe that our unionist politicians have not just failed unionists like myself, but all the citizens of Northern Ireland. I believe that the constitutional crisis that has been created by our unionist politicians threatens the peace for all the citizens of Northern Ireland.
"The 1998 Belfast Agreement, the basic building block of peace in Northern Ireland, gave the people of Northern Ireland the right to self-determination in respect of constitutional change.
"I am of the view that the Irish Sea border will have a damaging effect on the relative peace and stability of Northern Ireland. To be frank, the effect of the NI Protocol has been to amplify tensions which have lay dormant for some years."
He added: "Essentially, I am asking the court to declare that the NI Protocol/Irish Sea border is unlawful and unconstitutional.
"I am also seeking, in the alternative, that a referendum be held in Northern Ireland in respect of the NI Protocol/Irish Sea border."